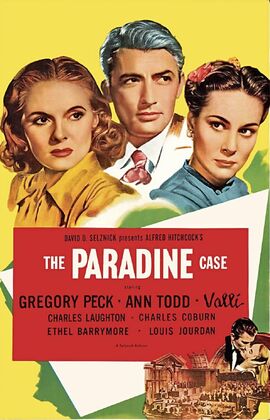 The Paradine Case
is a film directed by Alfred Hitchcock in 1947.
Background Information
Edit
Hitchcock wanted Ingrid Bergman for the role of Mrs. Paradine, but Bergman declined, as she detested working under David O. Selznick.
Greta Garbo turned down the role of Mrs. Paradine.
Hitchcok and Selznick both wanted Laurence Olivier to play Keane, but he was unavailable, filming "Hamlet" at the time.
Ad blocker interference detected!
Wikia is a free-to-use site that makes money from advertising. We have a modified experience for viewers using ad blockers

Wikia is not accessible if you've made further modifications. Remove the custom ad blocker rule(s) and the page will load as expected.