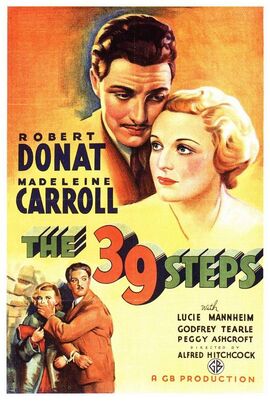 The 39 Steps
is a film directed by Alfred Hitchcock in 1935.
Background Information
Edit
Madeleine Carroll's welts on her wrists were real, from having been handcuffed to costar Donat for hours on end.
The apartment scene at the beginning was later spoofed by Mel Brooks and Madeline Kahn in High Anxiety.
Ad blocker interference detected!
Wikia is a free-to-use site that makes money from advertising. We have a modified experience for viewers using ad blockers

Wikia is not accessible if you've made further modifications. Remove the custom ad blocker rule(s) and the page will load as expected.