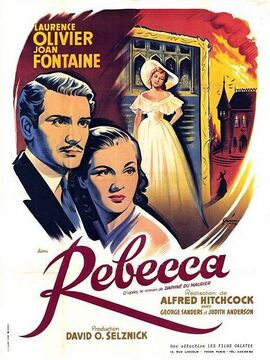 Rebecca
is a film made by Alfred Hitchcock in 1940. It is famous for being the first film Hitchcock made in the United States, and the only one to win the Academy Award for Best Picture.
A young girl is traveling as a paid companion in Monte Carlo when she meets the handsome and mysterious widower Maxim DeWinter. Quickly falling in love with him, she is shocked when he proposes marriage and quickly takes her away to live in his great estate of Manderly in Cornwall, England.
While she is there, she quickly finds herself being compared to her dead predecessor, the glamorous Rebecca.
Background Information
Edit
After successfully adapting Daphne DuMaurier's novel Jamaica Inn, Hitchcock was anxious to adapt Rebecca and talked producer David O. Selznick into letting him do it.
Vivien Leigh and Anne Baxter were both under consideration for the lead role. Leigh was considered as a favor to Laurence Olivier, but her performance in the tests were not very strong. Although everyone liked Baxter's tests, Hitchcock and Selznick felt she was too young (she was only sixteen). Baxter later got the opportunity to work with Hitchcock in I Confess.
Joan Fontaine has said in many interviews that she felt shut out from the rest of the cast, who considered her "American." She thought this was very strange, considering both her parents were English, and the film was shot in California.
As was the case in the novel, the heroine's first name is never revealed.
The second of three DuMaurier stories adapted by Hitchcock, the other two are Jamaica Inn and The Birds.
The only film of Alfred Hitchcock to win the Academy Award for Best Picture.
Script Development
Edit
An early draft of the script included the character of Maxim's grandmother, who was cut from the film, and gave the second Mrs. DeWinter the first name of 'Daphne.'