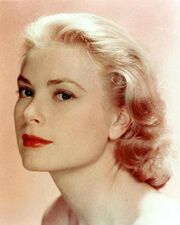 Grace Kelly
was an American film actress and a Monagasque Princess. Born Grace Patricia Kelly in Philadelphia, Grace attended the American Academy of Dramatic Art before starting a succesful acting career. She quickly became a favorite of
Alfred Hitchcock
, who cast her in
Dial M for Murder
,
Rear Window
and
To Catch a Thief
.

While on location for To Catch a Thief, Grace was introduced to the sovereign Prince of Monaco, Rainier III. The following year Grace gave up her film career and moved to Monaco to marry the prince. Upon her marriage she became Her Serene Highness, Princess Grace of Monaco. She and the prince had three children, Princess Caroline, Princess Stephanie, and (Monaco's current ruler), Albert II of Monaco. In the 1960s she considered returning to the film industry, when Hitchcock offered her the lead role in Marnie. However, the subjects of Monaco were not happy with the idea and Grace reluctantly decided that the role of a compulsive liar and thief was not appropriate with her new station. She never acted professionally again.
Grace died in 1982 from a car crash. She was driving over the very roads in southern France that were featured in To Catch a Thief when she lost control of her car and went over a cliff. She is buried in the cathedral in Monaco, beside her husband.
She is remembered in Hollywood as one of the most beautiful actresses of all time, and in the world as a much beloved princess.
Ad blocker interference detected!
Wikia is a free-to-use site that makes money from advertising. We have a modified experience for viewers using ad blockers

Wikia is not accessible if you've made further modifications. Remove the custom ad blocker rule(s) and the page will load as expected.