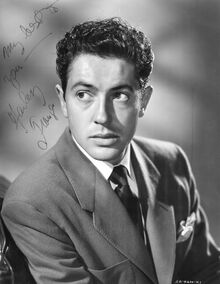 Farley Granger  was an American actor, best known for his two collaborations with Alfred Hitchcock, Rope in 1948 and Strangers on a Train in 1951. His work ranged from classical drama on Broadway to several Italian-language films and major documentaries about Hollywood, but he tended to find fault with his directors and scriptwriters and he remains defined by the two Hitchcock classics.
Ad blocker interference detected!
Wikia is a free-to-use site that makes money from advertising. We have a modified experience for viewers using ad blockers

Wikia is not accessible if you've made further modifications. Remove the custom ad blocker rule(s) and the page will load as expected.