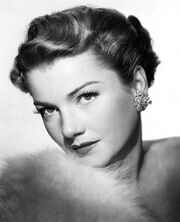 Anne Baxter
was an Academy-Award winning American actress, originally from Indiana. Today Baxter is best remembered for her starring role of Eve Harrington in the classic film
All About Eve
. She won the Oscar for Best Supporting Actress in 1946 for
The Razor's Edge
.
Baxter first came to the attention of Hitchcock in 1940 when she auditioned for the lead role in the film Rebecca. Despite only being sixteen at the time, she gave an impressive performance and was very nearly cast before it was decided she was too young and Joan Fontaine was cast instead. Hitchcock did work with Baxter's husband, actor John Hodiak, in the film Lifeboat, and in 1951 she did get the chance to work with Hitchcock herself, in the film I Confess. Although naturally a brunette, Baxter appeared as a blonde in her only Hitchcock movie.
Ad blocker interference detected!
Wikia is a free-to-use site that makes money from advertising. We have a modified experience for viewers using ad blockers

Wikia is not accessible if you've made further modifications. Remove the custom ad blocker rule(s) and the page will load as expected.